Mining Operation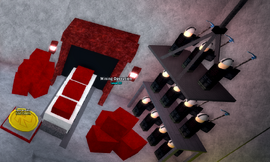 Produces gold coins. Unlocks new pickaxes when upgraded.
20 LEVELS
To the right is an infobox replica which is to be used on all base station pages - TheWIkiaEditMachine
Overview
Edit
Mining Operations (Mining Op, or Mining Ops) is one of the stations on Azure Mines which produces gold coins which you use to upgrade other stations and purchase items from the Marketplace. Upgrading this unlocks additional pickaxes to craft. But, there is a glitch to bypass this. You can still craft the pickaxe, but you need the required ores to make it. Just keep clicking the locked pickaxes until you craft it. This is an important station which will be repaired in the tutorial.
| Level | /15s | Upgrade Cost | Pickaxes Unlocked |
| --- | --- | --- | --- |
| In Ruins | - | - | |
| 1 | 2 | 1 3 | |
| 2 | 5 | 3 3 5 | |
| 3 | 9 | 20 15 15 | |
| 4 | 13 | 40 35 1 1 | |
| 5 | 18 | 50 40 1 | |
| 6 | 23 | 90 70 1 | , Gilded |
| 7 | 28 | 100 150 1 | |
| 8 | 34 | 150 200 3 1 | - |
| 9 | 40 | 200 300 5 | |
| 10 | 45 | 400 300 1 | , Garnet |
| 11 | 51 | 500 15 1  5 | |
| 12 | 58 | 750  30  3  10  | |
| 13 | 64 | 900  50  5  15  | |
| 14 | 71 | 1000  100000  10 20 | |
| 15 | 77 | 200000 100 20 25 | |
| 16 | 84 | 200 50 30 10 | - |
| 17 | 91 | 300 100 100 35 | - |
| 18 | 98 | 400 250 250 40 | - |
| 19 | 105 | 500 300 50 45 | - |
| 20 | 112 | 100 50 1000 50 | - |