Research & Development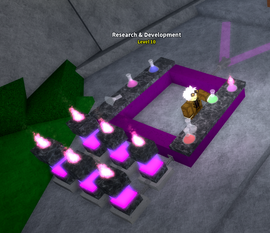 Advanced research increases your mining speed as well as gold & XP production.
10 LEVELS
Total Upgrade Cost:
811,070

60
118
15
66

3

1

1
1
1

1

1
100
1
Garnet
To the right is an infobox replica which is to be used on all base station pages - TheWIkiaEditMachine
Overview
Edit
Research & Development is one of the few buildings in your base. Upgrading this will give you a higher mining speed, more building items unlocked as well decreasing the amount of time it takes to produce XP and gold from at Data & Analysis and Mining Operations.
| Level | Mining Speed Boost | Gold/XP Boost | Upgrade Cost | Buildings Unlocked |
| --- | --- | --- | --- | --- |
| In Ruins | - | - | - | Metal Plate, Torch |
| 1 | +5% | +10% | 1 | Copper Plate, Ladder Brick |
| 2 | +5% | +10% | 5  70  1 | Uranium Stick, Teleport Pad |
| 3 | +5% | +10% | 1 1000  10  | Glass Candle |
| 4 | +5% | +10% | 3 5000 1 | - |
| 5 | +5% | +10% | 5 15000 1 | - |
| 6 | +5% | +10% | 10 40000 20 1 | - |
| 7 | +5% | +10% | 15 100000 40 1  | - |
| 8 | +5% | +10% | 20 150000 3 5 | - |
| 9 | +5% | +10% | 25 200000 100 10 | - |
| 10 | +5% | +10% | 40 300000 1 Garnet 50 | - |